Vía Verde from Manacor to Artà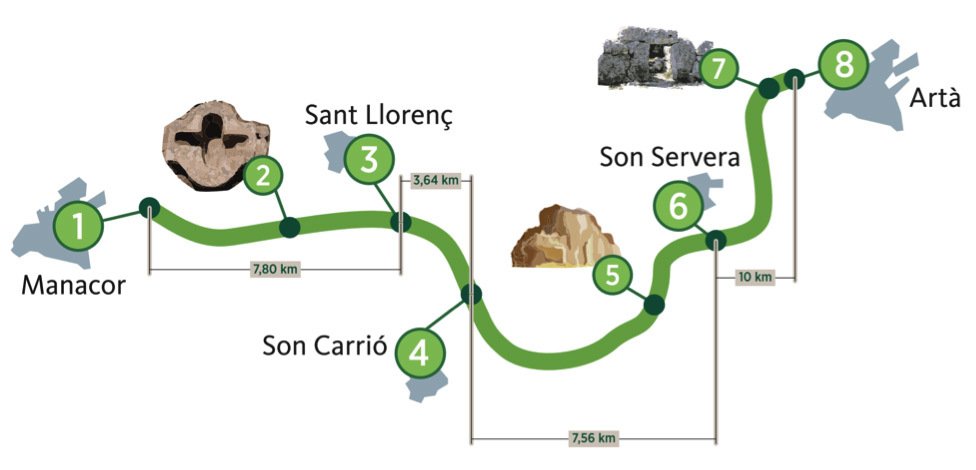 The 29 km long Vía Verde (Green Path) runs from Manacor via Sant Llorenç, Son Carrió and Son Servera to Artà along a former railway line. In 2012-2014, almost 5,000 trees and more than 15,000 shrubs were planted along the route and 6 picnic areas were set up to transform it into a cycling and hiking trail. It is easy to imagine that in 20 years' time it will be a shaded avenue. The old railway stations are to be converted into experience centres with restaurants, although this is not yet the case everywhere. Two films by the Balearic government and the Vias Verdesorganisation give an impression of the elaborate project. An overview graphic showsthe most important sights along the route. In Manacor, you can start at the railway station and cross the town on a cycle path lined with palm trees. The free route then begins on the east side of the 4-lane ring road at the Eroski supermarket. If you are travelling by car and only want to hike part of the way, you can park there. If you want to explore the whole route, you should hire a mountain bike or trekking bike from a bike hire shop in Manacor or in one of the towns along the route, e.g. at Bicis Sancho in Cala Millor.
Because it used to be a railway line, there are no major inclines and is therefore suitable for all ages and fitness levels. The path winds its way through the foothills of the Sierra Llevant. In several areas, it cuts through small hills, bridges valleys and crosses mountain tunnels. For hikers, the most beautiful section is between Son Servera and Artà, where most of the picnic areas are located. But in the other areas, too, you can experience Mallorca from a little-known side, as the route leads past flocks of sheep, goat pastures, olive groves, fruit and almond tree plantations, pine forests, old fincas and even a prehistoric settlement. At Son Servera, you can enjoy the sea view.